Camp el Planet is beautifully situated right off the coast, in tranquil and idyllic surroundings among fruit growing orchards, close to the romantic and scenic town of Altea.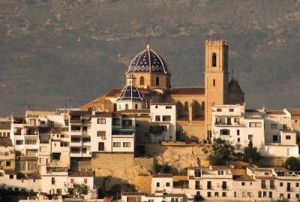 We collaborate with a highly professional wedding planner who will assist the wedding couple with everything from a to z. However small or large the ceremony and the festivities, the assistance of a wedding planner is highly recommended.
The property can sleep up to 40 people depending on the composition of the group.Camp el Planet typically provides wedding guest accommodation for three to four days (the exclusivity period). However, many of the guests chose an extended stay, either by arriving a few days before the wedding or staying on for a few days afterwards. Aside from preparing for the wedding and partaking in the formal events, many guests take the opportunity to indulge in the wide range of activities the Costa Blanca region has to offer.
Some wedding couples elect to have both the ceremony and the wedding reception at Camp el Planet, some only the reception and some have both the ceremony and the reception elsewhere.
However, when the majority of the wedding guests are staying at Camp el Planet it's customary to have all the informal, social gatherings at the premises. Given the beautiful and idyllic setting it should come as no surprise that the wedding couple and their guests spend the majority of their time relaxing and socializing on the premises.
For those that want to spend some time on their own, there's a huge number of activities and attractions to indulge in. In particular, those that enjoy walking (spectacular mountains close by), cycling (Costa Blanca is among Europe's most popular cycling destinations), watersports (sailing, kayaking, surfing and more), Spanish culture (Valencia, Alicante, mountain villages) or simply staying at the beach will have a grand time.