"Golf is a game in which you yell 'fore', shoot six and write down five." – Paul Harvey.
Given the favorable climate it comes as no surprise that there are many golf courses on the Costa Blanca. The Costa Blanca is one of the main international reference centers for golf practice with 21 courses (3 of them, Pitch & Putt), all of them located in a typically Mediterranean landscape. An average annual temperature of 17 degrees centigrade allows playing golf every day of the year.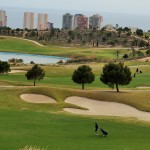 The courses located in the Northern part of Costa Blanca can be reached within a 30 – 45 minute drive; the courses south of Alicante will take a little longer.
Camp El Planet is also a great place for those who would like to combine golfing with other activities like cycling, hiking and/or climbing. Not to mention just having the opportunity to return to a serene and quite place after a long day with golf; just kick-back and relax. No hassle. Just you and your golf partner(s).
Right or wrong; we respectfully assume our visiting golfers know as much about the splendid menu of courses as we do. After all, Costa Blanca is among the premier golf destinations in Europe. And for good reason.
Click on the link below for map of golf courses. Page also contains information about the courses. Map of golf courses.