"Amongst all unimportant subjects, football is by far the most important."Pope John Paul II
Camp El Planet is the perfect location for a practice camp. The sporting grounds in Albir, Alfaz, Altea and La Nucia are all within a short distance and all have nice artificial turf fields. To schedule for two daily practice sessions is not a problem; there's ample capacity. There are many clubs and teams in the area and practice games can be arranged. Spain being a major power in international football on the men's side is no secret. Now, however, the women have become a serious contender for international titles as well. A number of Scandinavian girls teams have been outplayed by their Spanish hosts here over the past few years. For practical reasons, if a practice game is desirable we need to know well in advance.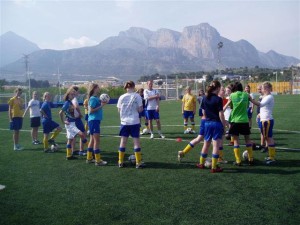 We believe teams strongly benefit from having the team members gathered in one place and not scattered across a large hotel or apartment complex. With its eleven studio apartments and sleeping capacity for 25 to 36 people Camp El Planet is ideal for a practice camp. In particular we view this as important for teen-age teams. Camp El Planet offers room and board in a quiet and secluded location; but still within short distance to coast, mountains, sporting grounds, airports and nearby towns like Altea, Alfaz and Albir. A large group will dominate the premises and thus provide cohesiveness, closeness, a strong feeling of community and enhance the team spirit.
Between the training sessions the group would be together during meals, around the pool area, in the bodega or by the pool table or the dart board. This will facilitate informal interaction in a laid-back and friendly environment which again reinforces the cohesiveness of the team. The team may also request exclusive access to the cafeteria and the kitchen, and prepare and administer their own meals.
If the team wants to catch a La Liga game both Elche and Valencia are within a 1,5 hour drive.