"Because it's there." ― George Mallory.
Well, the mountains in the region hardly bear any resemblance to the Himalayas, but are nevertheless recognized internationally as a superb venue for climbing. The vast number of crags and boulders and the very favorable weather make this area of Costa Blanca a destination for climbers from all over the world.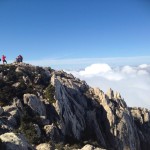 The rock climbing in Costa Blanca is very extensive and varied but more important is the fantastic quality of the routes. By and large; good quality bolted limestone. The rock climbing varies from short single pitch road side crags through to long multi-pitch routes in the mountains. The sheer quantity and diversity of the possibilities make a lengthy presentation next to impossible. There's a number of websites with very good descriptions of the various routes; location map, grades brief description including grades, GPS Coordinates for the parking, excellent pictures that contain local topo's, and information on the best time to rock climb. For about € 35 one can also buy an excellent climbing guidebook from Rockfax.Com (click for details). This guidebook contains descriptions of no less than 2.500 routes and is littered with action photographs that show the excellent and diverse rock climbing to be found in Costa Blanca. Again, if you chose to go online instead a simple "climbing Costa Blanca" search will result in a number of really informative and interesting websites popping up.
Situated right between Gandia to the north and Alicante to the south from Camp El Planet you can reach the most popular venues in less than 45 minutes. After a long day in the mountains you probably have nothing against crashing on the beach for a few hours in the early evening either.